If you would like to speak with one of our engineers, please Submit a Question or give us a call at the phone number here. In North America, To route your phone support request directly to a technical support engineer, call toll free 1-888-382-1583 or 1-440-646-3434, select Option 3 (Technical Support), then select Option 5 (More Options). When prompted, enter the ThinManager Direct Dial Code 201.
Terminal Server Configuration
ThinManager and ThinManager Ready thin clients rely on Microsoft Terminal Servers. These servers and their roles are defined in ThinManager using the Terminal Server List Wizard.

Overview
Launch the Terminal Server List Wizard by selecting Manage > Terminal Server List from the menu or by right clicking on the Terminal Server branch and choosing either the Add Terminal Server command, or the Edit Terminal Server command.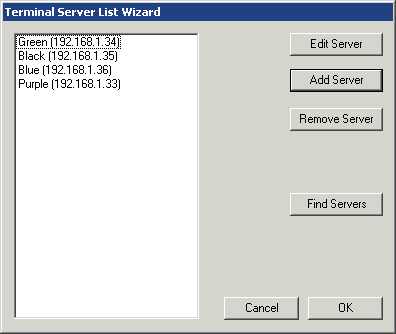 Terminal Server List Wizard
The opening window of the Terminal Server List Wizard will show any Terminal Servers that are defined or will be blank if none have yet been defined.

Add Server will launch the Terminal Server Wizard to define new terminal servers.
Edit Server will open the properties for a highlighted terminal server in the list.
Find Servers will launch the Available Terminal Servers window to automatically terminal server addition.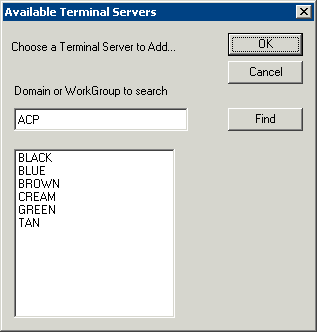 Available Terminal Server Window
The Available Terminal Servers window will display any Microsoft terminal servers that are a member of the same domain or workgroup as ThinManager. Select the Find button to display the member servers.
Terminal Server Wizard
Add Server on the Terminal Server List Wizard will launch the Terminal Server Wizard to define new terminal servers. There are 5 pages.

Introduction – This page gives introductory messages.
Terminal Server Name – Enter the terminal server's NetBios name in the Terminal Server Name field and the IP address in the Terminal Server IP field to define the terminal server within ThinManager. The Discover button will fill in the IP address of a server.

Enter an administrative account into the Log In Information to allow ThinManager to import the status of the terminal server into ThinManager. This is important for SmartSession.
The Schedule button allows the Schedule window to launch to run events at set times.

Terminal Server Capabilities – This page configures the terminal server to use SmartSession. It also defines what protocols the server will use to talk to the terminals.
Data Gathering – This page sets the frequency that ThinManager will poll the terminal server for process and session data used in SmartSession.
SmartSession Configuration – This page allows the ranges of the three SmartSession parameters, CPU usage, memory usage, and session count, to be adjusted.

This page is only displayed for terminal servers that are configured to use SmartSession on the Terminal Server Capabilities page.
The Finish button closes the wizard and adds the terminal server name to the Terminal Server List