If you would like to speak with one of our engineers, please Submit a Question or give us a call at the phone number here. In North America, To route your phone support request directly to a technical support engineer, call toll free 1-888-382-1583 or 1-440-646-3434, select Option 3 (Technical Support), then select Option 5 (More Options). When prompted, enter the ThinManager Direct Dial Code 201.
ThinManager Installation
Standard ThinManager Installation in Windows
Although ThinManager is often installed on a terminal server, ThinManager can be installed on almost any Windows computer. Server 2003 and Server 2008 easier to manage than XP, Vista, or Windows 7 workstations because the workstations are not designed for serving out resources as a server is and may require additional configuration and user control overrides.
See the Compatibility Matrix for detailed information on supported Operating Systems.
ThinManager is distributed in two ways: via CD-ROM and digital download. To begin the installation process, either run the setup from the CD Autoplay, or double click the downloaded executable. Both options run the same InstallShield Executable.
Selectable Features
As you proceed through in the Installation Wizard, you will be prompted to select which applications you wish to install:
ThinManager is the graphic user interface. It is installed to view and control the program.
ThinServer is the engine that drives the program. It is a vital component that needs to be installed with ThinManager to allow ThinManager Ready thin clients to boot and be configured. ThinServer is the component that requires licensing. It is separated from ThinManager in the installation to allow additional instances of ThinManager to be installed for remote administration.
ThinManager x64 – The 64-bit version of ThinManager will automatically install on 64-bit operating systems unless you manually select the 32-bit version.
ThinServer x64 – The 64-bit version of ThinServer will automatically install on 64-bit operating systems unless you manually select the 32-bit version.
ThinManager Utilities includes tools like the touch screen calibration program. These utilities need to be installed on every terminal server that have clients with touch screens connected to them.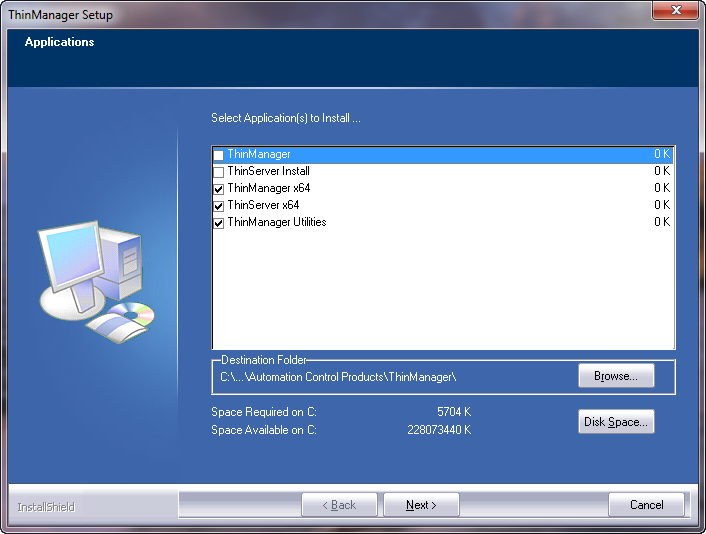 Application Selection
Licensing
After ThinManager is installed, you will have to provide information to the Licensing Website so that your license file can be generated. See the License Activation page for further details.