If you would like to speak with one of our engineers, please Submit a Question or give us a call at the phone number here. In North America, To route your phone support request directly to a technical support engineer, call toll free 1-888-382-1583 or 1-440-646-3434, select Option 3 (Technical Support), then select Option 5 (More Options). When prompted, enter the ThinManager Direct Dial Code 201.
Category:Troubleshooting
If a thin client does not function as intended, it is necessary to determine:
What has changed in the configuration -- either a Windows Setting or ThinManager Configuration Change.
What is the exact point of failure.
During the course of troubleshooting, it is better to try one step at a time instead of doing multiple things at once. The purpose being that if multiple changes are made, it is difficult to determine what fixed the issue.

The below Flow Chart should help you determine the exact point of failure along with some suggested resolutions.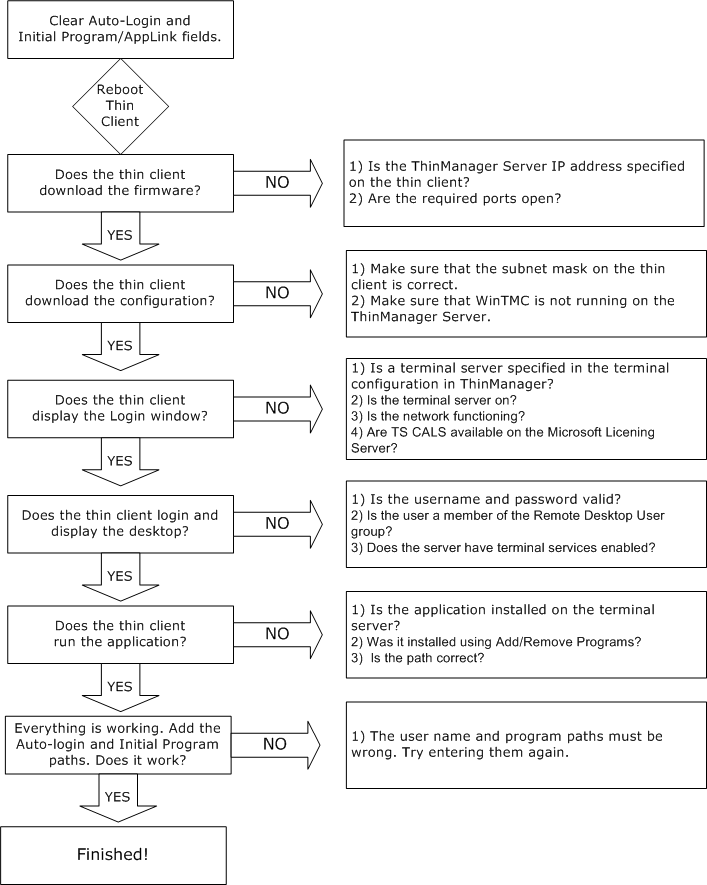 Pages in category "Troubleshooting"
The following 12 pages are in this category, out of 12 total.