If you would like to speak with one of our engineers, please Submit a Question or give us a call at the phone number here. In North America, To route your phone support request directly to a technical support engineer, call toll free 1-888-382-1583 or 1-440-646-3434, select Option 3 (Technical Support), then select Option 5 (More Options). When prompted, enter the ThinManager Direct Dial Code 201.
Category:Licensing
ThinManager Licenses have a number of opposing concepts. These include:
This article will explore and explain them.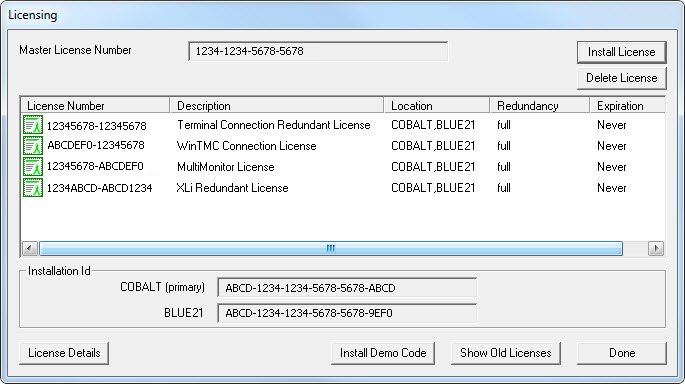 ThinManager 6 Licensing Window
Number Formats for Clarification
Installation IDs, ThinManager 3 and earlier, are 2x8 in hexadecimal, as in 12345678-9ABCDEF0.
Installation IDs, ThinManager 4 and later, are 6x4 in hexadecimal, as in ABCD-1234-1234-5678-5678-ABCD.
Master Licenses are 4x4 in hexadecimal, as in 1234-1234-5678-5678.
Demo Codes are 4x4 in hexadecimal, as in 1234-5678-9ABC-DEF0.
License Types
Windows Licensing
Clients require a Microsoft Terminal Server / Remote Desktop Services Client Access License (TS/RDP CAL) to connect to terminal servers. This is required regardless if you are using a fat client or a thin client, using PXE, RDP, or ICA. This licensing is per seat or per user; ten terminals would require ten TS CALs even if only two were connected at a time.
---
Note: The TS CAL (Terminal Services Client Access License) of Server 2000 and 2003 is called the RDS CAL (Remote Desktop Services CAL) on Windows 2008 Servers
---
All TS/RDS CALs are installed on a Terminal Services Licensing server. This is one machine on the network to act as a repository for all TS/RDS CALs. The Terminal Services Licensing server is activated through the Internet by connecting to the Microsoft Certificate Authority and License Clearinghouse.
The terminal servers request TS/RDS CAL authentication from the Terminal Services Licensing server as terminals attach to terminal servers.
Windows 2000/2003/2008 Servers are not normally sold with TS CALs. These need to be purchased separately from your Microsoft vendor and installed on the Terminal Services License server.

Application Licenses
Each application that a user is running will need the appropriate license from the vendor. If two instances of an application are running on a terminal, that terminal will probably need two licenses. Please see your application vendor's documentation for their license policy.
ThinManager Licenses
Each device that will be managed by ThinManager will need a ThinManager connection license to receive its configuration.
Licenses versus Installation IDs
Licenses in ThinManager 3.x (and earlier) will manage licensing on the Legacy ThinManager Licensing while ThinManager 4.0 (and later) will utilize the new ThinManager Licensing Site.
The license activation requires an Installation ID from ThinManager. This is a number that ties the license file to a specific piece of hardware. This number is found on the bottom of the ThinManager Licensing window that is opened by selecting Install > Licenses from the menu.
Product Licenses versus Master Licenses
Product Licenses are the paper licenses that are bought to provide specific functionality. Originally these work activated individually. Now they are added to a Master License.
A Master License is created on the ThinManager License Activation site. It is an empty container for the Product Licenses that add functionality to the Master License. It has no power on its own but receives its power from the Product Licenses that get added to the Master License.
Each ThinManager Server or synchronized pair of ThinManager Servers uses a single Master License to contain the product licenses.
Product Licenses used to be individually activated and added to ThinManager in version 3. Often people had a half a dozen licenses to give them all the functions they wanted. If you upgraded your server you would have to activate each and every license which could be time consuming. The Master License was developed in ThinManager 4 to speed the licensing process by being a container for the individual Product Licenses. When the Master License was activated all the contained licenses would get activated.
Product License Consolidation
ThinManager has evolved to provide greater functionality in the core Terminal Connection product license.
ThinManager 3 had a long list of Product Licenses that could be purchased to increase thin client functionality. When ThinManager 4 was released many of these functions and licenses were rolled into the Terminal Connection License. With the creation of the XLi license of ThinManager 5 all of these functions are consolidated into a single license. Installing an XLi product license unleashes all of the ThinManager functionality.
Standard Licenses versus Enterprise Licenses
Standard Licenses provide a specific number of connections. They are sold as 5-packs, 10-packs, and 25-packs. They can be purchased as Fully Redundant, Mirrored Redundant, and Stand Alone versions.
Enterprise Licenses provide unlimited connections. An Enterprise Server provides for two fully synchronized ThinManager Servers for redundancy and unlimited connections. An Enterprise Site provides unlimited ThinManager installs with unlimited connections at one location.
Redundancy versus Failover
The thin client has a two-step boot process. First the thin client connects to ThinManager to receive its firmware and its configuration. Second, the thin client is sent to terminal servers to start sessions based on this configuration.
Redundancy describes having two ThinManager Servers so that a ThinManager Ready thin client can always find a ThinManager Server to boot from and receive its configuration.
Failover describes assigning multiple terminal servers to the thin client so that it always has a terminal server to run a session on.
Redundancy Modes
Full Redundancy uses two synchronized ThinServer engines and has two ThinManager interfaces for control on either computer.
Mirrored Redundancy uses two synchronized ThinServer engines but allows administrative functions only on the designated primary ThinManager Server.
A Stand Alone system is a single ThinManager without Redundancy.
Redundant ThinManager Servers, both Full Redundancy and Mirrored, should use auto-synchronization so that a thin client will get the same configuration regardless of the ThinManager Server it receives its configuration from.
Failover Modes
In Failover, a ThinManager Ready thin client is assigned to a list of terminal servers and will connect to the first one on the list. The ThinManager Ready thin client will detect if that terminal server fails and will connect to the next terminal server on the list. This normally takes 10-20 seconds.
Once the thin client connects to the backup terminal server it will login and launch its application. The application launch can take 1 second to 3 minutes depending on the application and the terminal server load.
Instant Failover configures the ThinManager Ready thin client to connect to two terminal servers and launch a session on each at the same time. A failure of the primary terminal server will cause the terminal to switch to the backup session. Since the session and application are already initialized this takes just a second.
If the terminal is assigned to three or more terminal servers the terminal will then start a second session on the next available terminal server.
The thin client configuration should be configured to auto-login and an AppLink display client to gain the full benefits of Instant Failover.

License Activation
This is a summary of the licensing steps. Details can be found on the [License_Activation | License Activation] page.
The Master License container is created on the Licensing Website
The Product Licenses are added to the Master License on the web site.
The Master License is activated with the Installation ID from ThinManager. This is found on the Licensing window that is launched by selecting Install>Licenses from the menu bar of ThinManager.
The activated license is downloaded and applied through the Licensing window.
Activation is simplified with the Master License because when you activate a Master License all the member Product Licenses are activated at the same tie.
Pages in category "Licensing"
The following 6 pages are in this category, out of 6 total.